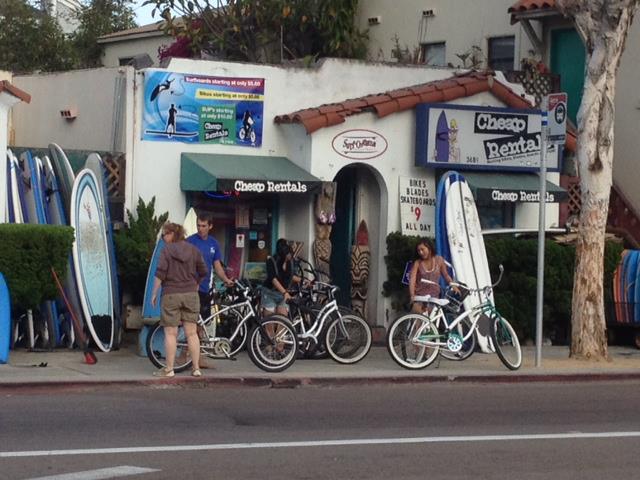 Activities in Mission Beach and Mission Bay
Whether you are a San Diego local or visiting from out of town, Mission Beach offers some of the funnest and most unique activities both in and out of the water that you will find in San Diego. While many of the activities require equipment or gear, it is not necessary to own or even bring your equipment down to the beach with the array of equipment rental options available at locations like Cheap Rentals, Mission Bay Aquatic Center and other equipment rental businesses in the area.
Popular activities range from biking and roller blading on the boardwalks, surfing and stand up paddle boarding, to sailing and water skiing in the bay.
For those on a tight budget, you can easily rent a bike for the hour, day or week at very reasonable costs. The general rate for a bike, roller blades, or skateboard at Cheap Rentals in North Mission Beach is a mere $12 for the day or $49 for the week. Surfboards stand up paddle boards (SUPS), and body boards start at $5 per hour and as little as $15 per day for a surf board. A kayak can be rented for $15 per hour or $40 per day.
For those with a slightly higher budget, boat and water equipment rentals are available at the Mission Bay Aquatic Center, Adventure Water Sports and a number of other local facilities. A typical price for a ski boat can range from $150 to $185 per hour and other equipment such as wave runners can generally be rented for in the range or $100 per hour.
For those who just want to relax and enjoy the beach, but don't have umbrellas, canopies or chairs, Cheap Rentals offers these as well for very good pricing. These convenient rental locations allow visitors to come to the beach and hang out in style and comfort without having to pack the car to the rim or pile equipment on top of the roof rack.
Leave a Reply