If you are in town and looking for an easy day trip, or even if you are a local resident, Sunset Cliffs is a wonder that is awaiting your visit. Just a few miles south of Mission Beach, Sunset Cliffs is one of San Diego's true coastal gems and a fantastic place to spend part of a day walking, hiking, jogging surfing, playing in the tide pools, fishing, or just hanging out and enjoying the scenery, sunsets and fresh sea air. The "Natural Park" begins at just south of the intersection of Point Loma Avenue and Sunset Cliffs Blvd and continues south to the end of Sunset Cliffs Blvd and the bluffs beyond. The area from the beginning of the park to the end of Sunset Cliffs Blvd is street front with a few small parking lots and street parking. If you continue to the end of Sunset Cliffs Blvd and go left to the top of the hill, there is a large dirt parking lot that allows easy access to trails, bluffs, canyons and there are a few trails that you can take all the way down to nearly unpopulated beaches and coves.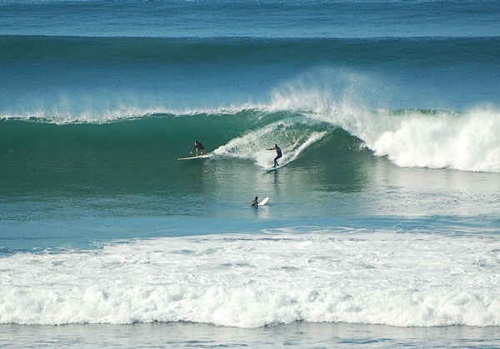 Getting there:
From Mission Beach, take Mission Blvd towards the roller coaster and go east on West Mission Bay Drive. Take the exit immediately past Quivira Road for Sunset Cliffs Blvd and follow Sunset Cliffs until you reach the Natural Park.
Best time to visit:
Sunset Cliffs tends to be busiest in the mornings and just before and after sunset. Some of the beaches are more accessible at or near low tide. When the surf is good the area is generally packed with surfers and spectators as it gets some amazing waves.