Surfing in Mission Beach
Mission Beach is a great base if you love to surf. While not necessarily known for having fantastic waves, Mission Beach itself occasionally can get some great surf. The surf in Mission tends to be best on west and northwest swells and can hold pretty good size with the right tide, wind and swell. The best time of year for catching good surf in Mission Beach tends to be the winter months when the swells are coming in from the north and east Pacific and the fall with the arrival of offshore Santa Ana winds from the north east. The most consistent surf in Mission Beach is at the South Mission Beach jetty, but on any given day there can be fantastic waves anywhere along the beach. One of the best things about surfing Mission Beach is that the beach is so wide that you can almost always find a spot that is uncrowded.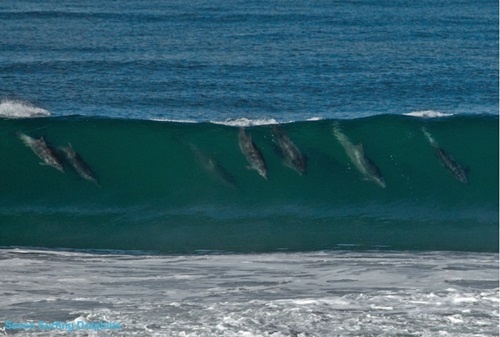 Photo courtesy of Paul Wilson at http://www.oceanfrontphotos.com
If the surf in Mission Beach is not up to your standards on any given day, the neighborhood offers easy access to any number of world class breaks nearby. Other popular surf spots within a few miles of the neighborhood include:
To the north:
Pacific Beach – 5 minutes
Beach
PB offers a wide range of beach break from PB Drive north to the pier. The best waves tend to be at the pier and north of the pier. It tends to hold its shape a little better than Mission Beach but is also generally more crowded.
Tourmaline – 5 minutes
Reef/Right Point/Beach
On the border between Pacific Beach and La Jolla, Tourmaline offers a fantastic, slow, open long board wave. On big swells the wave can occasionally connect with PB Point for a super long ride. Tourmailne tends to be more of a long board wave while short boarders tend to hang a little south. The surf here is generally extremely crowded.
PB Point – 5 minutes
Reef/Right Point
This wave is a long paddle from Tourmaline or you can walk down the stairs at Searidge Drive and Linda Way and paddle out from the rocks. With the right swell you can get a nice long right off the point. If the swell is not sufficient it can often be flat.
Bird Rock – 7 minutes
Reef/Right
It is not very consistent, but with the right swell Bird Rock can be one of the best waves in San Diego. The right point can go on and on, but when it is good the crowds come out in full force.
Big Rock – 10 minutes
Reef/Point/Left
Big Rock, located on the south side of Windansea Beach has good enough days to have made plentiful appearances in the surf magazines and can pass for a small day at Pipeline when the swell is right. The shallow reef and rocks make for a wave that should only be ridden by experts. The power is deceiving and it can even knock you around at shoulder high.
Windansea – 10 minutes
Reef/Right/Left
Windansea is one of the most famous of San Diego/La Jolla surfing beaches. It is pretty consistent and can bring in swell when many other beaches are totally flat. The waves tend to peak in a limited area and with more often than not big crowds getting waves is not always easy.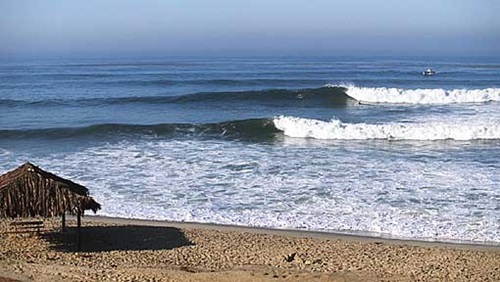 Scripps Pier/La Jolla Shores – 15-20 minutes
Beach
Scripps tends to be more for the experienced surfer with sometimes excellent surf rolling in off the pier. La Jolla Shores tend to be more beginner oriented with the swell in summer often times smaller to non-existent due to La Jolla Cove sheltering it from south swells.
Blacks Beach – 15-20 minutes
Beach
Blacks is a another legendary San Diego/La Jolla surfing beach. The walk down the cliff tends to deter many from hitting up the excellent surf. You can make the trek down from La Jolla Farms, the Glider Point or you can walk in from Scripps at very low tide or from Torrey Pines Beach to the north. Blacks offers a deep offshore canyon that leads to waves that are often times far larger and more powerful than other beaches in the area. There are occasionally days where La Jolla and Scripps will be totally flat and Blacks can be overhead. The wave tends to be powerful and is often times hollow.
To the South
Ocean Beach Jetty – 10 minutes
Beach/Right
The OB Jetty is the bizarre of the Mission Beach jetty. Built up sand leads to fantastic rights rolling off the jetty sometimes even when everything is closing out. It tends to be crowded and is located at the Ocean Beach Dog Beach.
Ocean Beach – 10 minutes
The area from the jetty to the pier offers a wide open area of beach break with occasional small reefs that might break on bigger swells. Surf here tends to pull in south swells a little better than Mission Beach and the pier can create sandbars and leads to good lefts just north of the pier. For the more advanced surfer, waves can be caught on the south side of the pier and connected straight through for long rides.
Sunset Cliffs – 15 minutes
Reef/Points
Sunset Cliffs offers world class surf with the right swell and tide. The waves tend to be blown out less often due to the kelp beds offshore and there are miles and miles of different breaks. Some breaks like Garbarge, Osprey's, New Break or Birds#!t are accessible by vehicle. Southern more breaks like Ralph's and Donuts are only accessible by boat.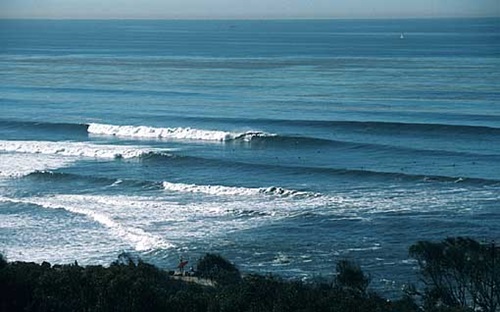 In addition to these nearby beaches and breaks, San Diego County has some amazing surf in North County including world class breaks like Swami's, Trestles, and San Onofre and to the south with barreling Imperial Beach. It is also a short drive to the border if you want to hit up some Baja waves.