Mission Beach offers a beach front neighborhood like no other. This one of a kind community encompasses the area from the Mission Bay Jetty on the south to the northern shores of Sail Bay and Pacific Beach Drive on the north. The community itself is engulfed in an isthmus that runs for approximately 2 ½ miles south to north with only a few hundred feet separating the ocean front beach from the bayside beaches. The beach runs uninterrupted with sand for nearly 4 miles from the South Mission Beach Jetty to the cliffs of Pacific Beach Point and Bird Rock at the southern tip of La Jolla. There are miles of vehicle free boardwalks and walking courts for walking, running, biking, roller blading, skateboarding and people watching.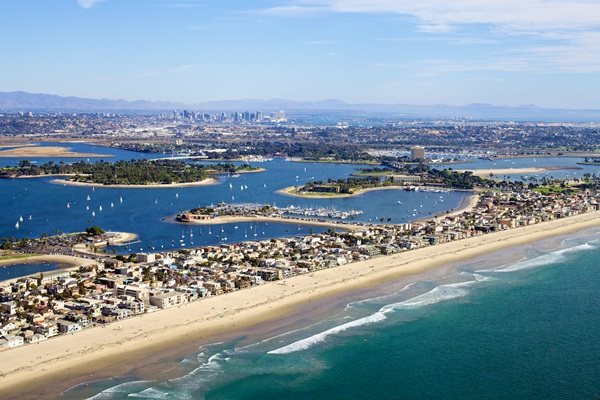 The community is generally split into three distinct districts: South Mission Beach, Mission Beach and North Mission Beach. South Mission Beach runs from the Mission Bay jetty to San Fernando Place just south of the roller coaster. Mission Beach encompasses the area from San Fernando Place to Ventura Place and includes mostly park area, Belmont Park and parking lots. The area north of Ventura to Pacific Beach drive is considered North Mission Beach, where the majority of our rentals and listings are located. Each district has its own business district with the North Mission Beach district generally located between Santa Clara Place and San Jose Place. In North Mission Beach alone there are numerous restaurants, shops, grocery and convenience stores, nightlife establishments and other services.
The community is probably best known as the home of Belmont Park, The Plunge and the Giant Dipper Roller Coaster. Belmont Park offers a wide range of shops, bars and restaurants that mostly cater to the tourists, while the Plunge is a historic swimming pool that is now part of the Wavehouse Athletic Club. The Giant Dipper is a wooden roller coaster, built in 1925 that has seen its share of history in the neighborhood.
The three main thoroughfares in Mission Beach are Bayside Walk (Boardwalk on the bayside of Mission Beach), Mission Blvd (Main road) and Ocean Front Walk (Ocean front boardwalk), and there are two additional alleys, one on the bayside and one on the beach side. The courts and bayside tend to offer more peaceful solitude while the ocean front boardwalk will generally have you in the midst of the action.
North Mission Beach Restaurants and Dining
Surfing Mission Beach and Nearby Breaks